Home
Working Together to Advance Mid-Michigan
Hundreds of local companies and community organizations work with Michigan State University every day to make MSU's knowledge and resources more accessible to our community. Their combined contributions to local arts, education, technology, and business play a pivotal role in making our region a great place to live, work and invest.
These companies and organizations are innovators. They have the imagination and energy to apply knowledge in new ways, in the places where it matters most. The synergy between them and MSU is a critical part of our region's appeal to businesses, talent, investors, and families.
With this in mind, MSU and Leap, the tri-county region's front door for economic development, worked with Prima Civitas Foundation to establish a recognition program for the companies and community organizations that are building our community through their collaborations with MSU. We gratefully acknowledge these entities for their commitment to knowledge and progress in our community.
Getting involved
Any company or community organization is eligible for Community Builders recognition as long as their collaboration with MSU...
continues for at least a year, or in a way that provides enduring community impact
advances regional economic development and quality of life
benefits both MSU and the collaborating organization
advances the public good
We encourage both for-profit and non-profit organizations to apply.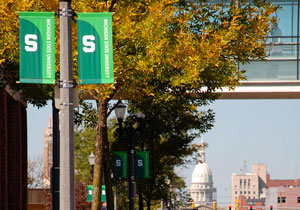 Already collaborating with MSU and ready to apply for recognition? You can find complete information and submit the Community Builders application.